A Matterport 3D tour is a unique and attractive way to showcase your listing.
Matterport 3D tours are shot with a special 360 camera. HD Showings uses the Matterport Pro 2 camera. This camera has a dimensional accuracy within 1%, which ensures that your space is represented with precision. These tours are different than a video tour because they are interactive- the viewer clicks through the home and can choose which order they proceed through rooms. 
Matterport 3D is a fantastic option in today's real estate landscape.
The benefits of Matterport tours has amplified in the recent past with the Covid-19 outbreak. Buyers that may be hesitant to tour homes in person have the option of touring it virtually. Similarly, the Tampa Bay area has seen a huge increase in out-of-state buyers. The addition of a Matterport 3D tour to your listing increases the confidence and value of your home to out-of-state buyers that might not be touring the home in person before closing.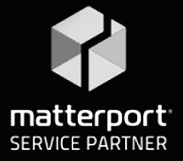 We offer Matterport 3D tours starting at $350.
In addition, once your 3D tour is completed, you have the option of adding a 2D floorplan to your order for $35. Please allow additional time to complete this service if requested.