It can be easy to overlook things when prepping your home for listing photos and kick yourself later when the photos come back.
While our photographers do their best to aid you on site, sometimes it might not be feasible within the time frame provided to help you with all of those finer touches. In this post, we will give you a checklist of all of the things you need to do to prep a kitchen for real estate listing photography,
Wipe down all counter tops and appliances.
Be sure to use granite cleaner for granite counter tops to give that extra shine and use stainless steel cleaner for stainless steel to avoid streaking. Streaks on stainless steel can be very obvious in photographs.
Sweep, mop, and polish (if applicable) all flooring.
Clean all windows and glass surfaces with a streak-free glass cleaner.
Clean back splashes.
This includes scrubbing the grout.
Make sure all light bulbs are working.
Ensuring that all light bulbs are the same temperature will also aid in a more cohesive photos. 
Remove screens from windows prior to your photography session.
This makes for a cleaner photo and allows for more natural light.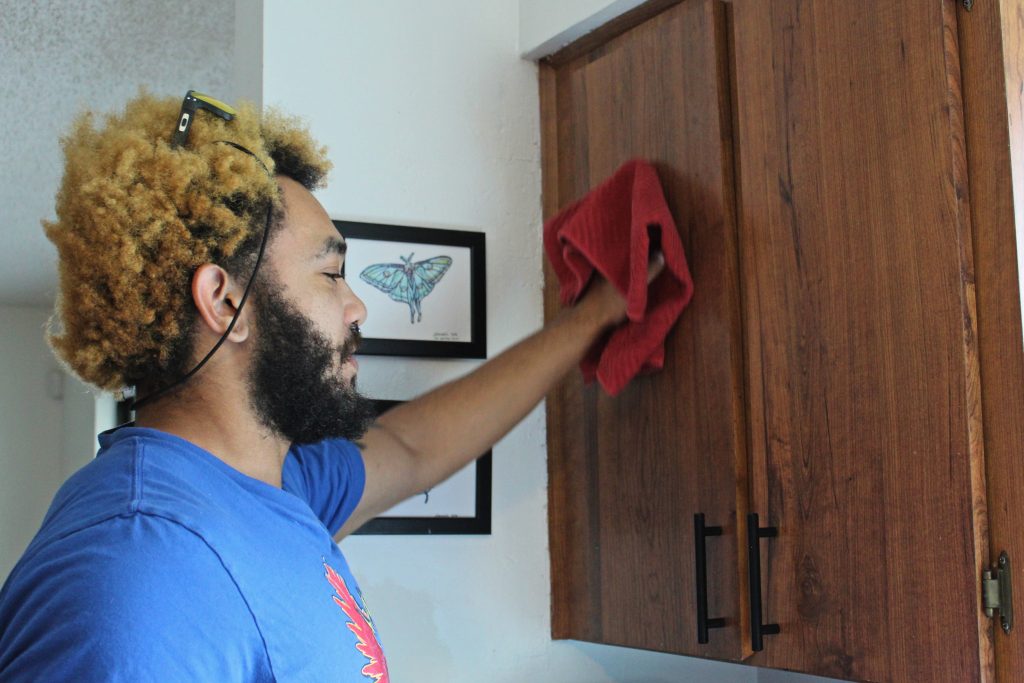 Wipe down cabinet faces and handles/pulls.
Be sure to use the correct cleaner to avoid damaging your cabinets.
Remove all small appliances from counter tops and put somewhere out of sight.
Coffee post, toasters, and blenders can all distract the eye from the beauty of your kitchen. However, a KitchenAid stand mixer that is in good condition and clean can add to the charm of a kitchen and acts as a staging piece. 
Hide or remove trash cans.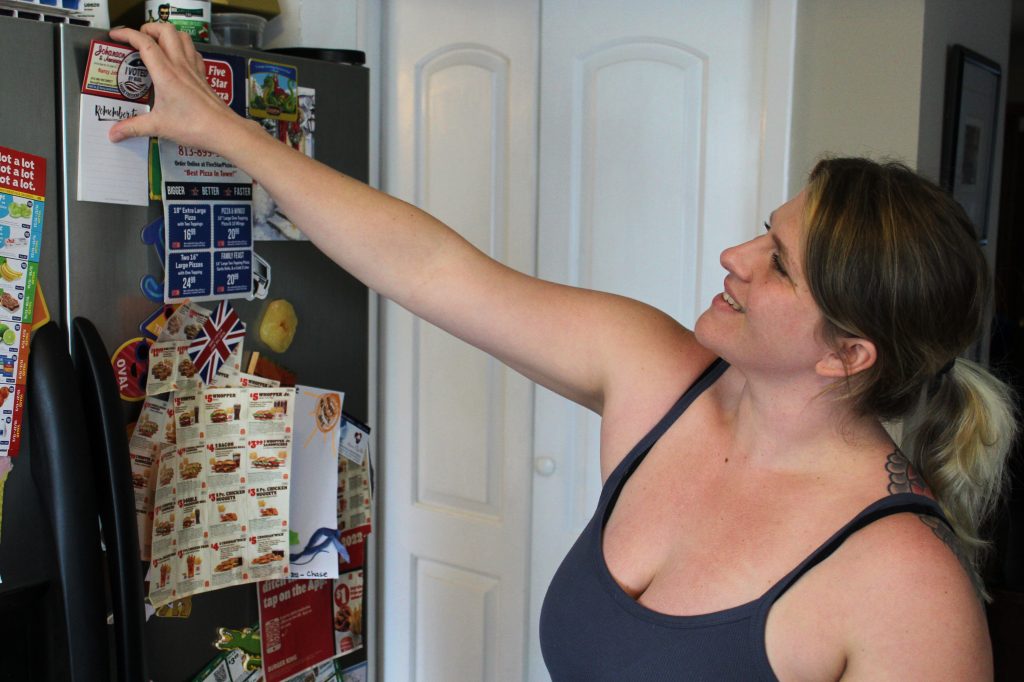 Remove all magnets and personal items from the refrigerator. 
Hide or remove paper towel holders, if possible.
If the paper towel holder is free standing, remove it from the counter top. If the paper towel holder is drilled into the cabinet or wall, it is better to leave it where it is and make sure it is staked with a fresh paper towel roll. Pick a paper towel with no designs- the plainer the better. 
Use discretion when displaying fruit.
Fresh and beautiful fruit that is left on a kitchen island or peninsula in a pretty bowl can add to the staging of the kitchen. Rotten or overripe fruit and banana trees will take away from the beauty of the kitchen. Use discretion when deciding if you should leave your fruit on display.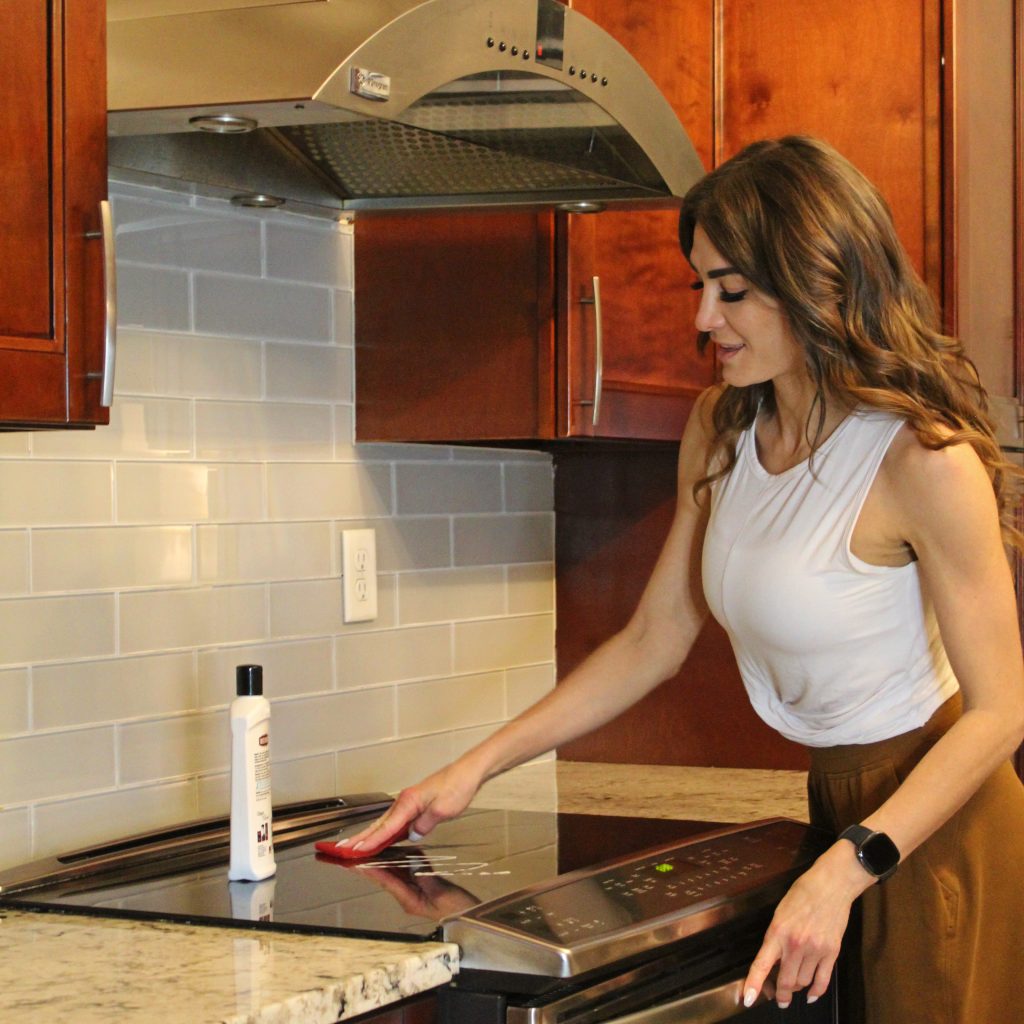 Clean your stovetop.
Be sure to use the correct cleaner for your stovetop surface so you avoid damaging it- it is possible for scratches on glass stovetops to be seen in some listing photos.
Make sure potted plants are healthy and lush and that they are in clean and attractive pots.
Otherwise, remove these items prior to your photoshoot.
If you have open shelving, take extra care to ensure that it is neat, organized, and attractive.
Open shelving can be tricky, so you might want to seek the advice of a professional stager or interior designer if you are not sure how the shelving will translate to photos.
Hide or remove all dish drying racks and mats.
Remove and hide all dish cleaning items- sponges, scrubbers, and soaps.
Because who wants to think about chores when looking for their dream home?
Clean and polish your kitchen sink, faucets, and handles.
If the home has an impressive walk-in pantry, be sure to thoroughly organize the space.
This can be  a daunting task, but a walk-in pantry is an impressive feature in a home and should be staged in a way that accentuates it's utility.
Note: Many real estate photographers only photograph pantries if requested, so be sure to let your photographer know if you want this area photographed.
If there is a washer/dryer closet in the kitchen, be sure to clean the surfaces of the appliances and hide all laundry supplies.
Like with pantries, many real estate photographers do not photograph washer/dryer closets unless specifically requested.