In a "regular" sized home, I often find myself squished into corners.
When the opportunity to photograph a tiny house came up, I was excited, but knew there were going to be some challenges. In addition, this was not a standard tiny home. This tiny home was tastefully littered with eccentric features and decor- small, lots of stuff and three stories.  
Technically speaking, this was a tiny house, but it lived large.  The ground floor hosted the open living, dining and kitchen. Just beyond that a full sized bathroom and a narrow staircase- that's where the fun begin. 
Ascending the staircase, a full sized bed lay directly ahead. Tucked into an enclave to the right of the stairs was a windowed seating area that was open to the floor below. At the foot of the bed resided the second staircase leading to the top floor sitting area. Mind you,  these staircases were steep with no railings. Like an adult playhouse. Seriously, it made me feel like a little kid!
The reading area had a small sofa, built in bookcase, and another windowed seating area tucked opposite of the sofa. No space wasted.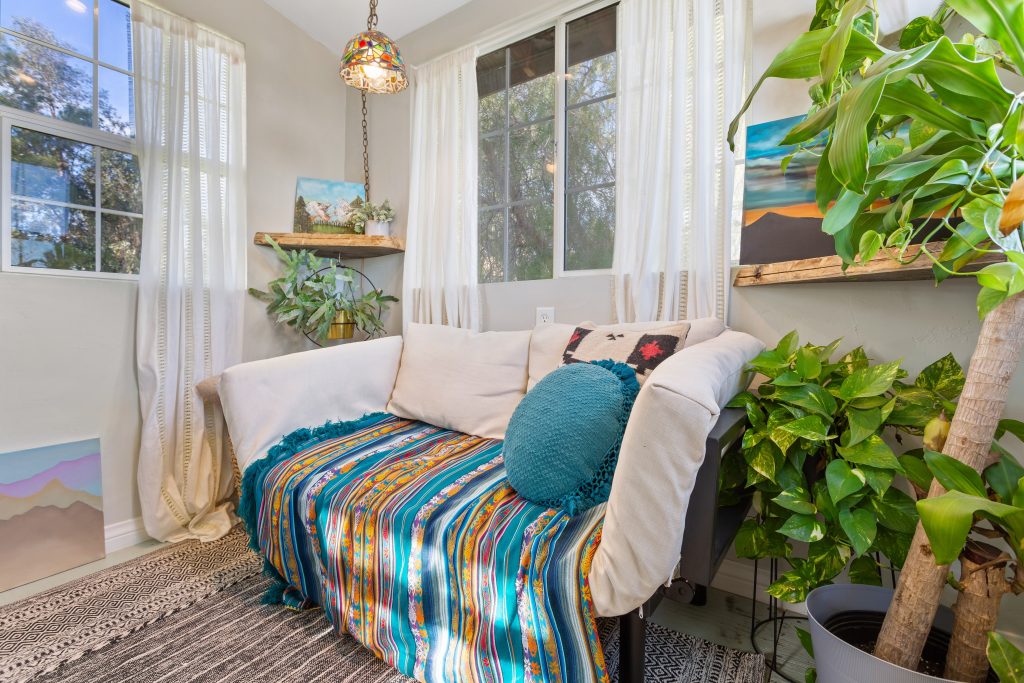 Photographing this home came with several challenges:
1: Don't die falling down the narrow stairs with gear in hand.
2: Camera placement. 
3: Don't take a million photos; with so many interesting aspects to capture, it was hard not to! 
Regardless of the challenges presented by this home, the location and amazing weather made this home a pleasure to photograph. This home was perched atop a hill in Paso Robles, which is in California wine country. 
The views overlooked vineyards that sporadically glittered from the metallic ties used to detract birds from picking at the grapes. Hummingbirds buzzed around chipping and sword fighting over a nectar feeder. 
Two covered outdoor seating areas expanded the perceivable living space. With comfortable year round temperatures, there is no reason not to take your meals outside. With the humming birds. Really, it was a magical plot of land. 
Side note- The area that is now the city of Paso Robles was a pit stop along the El Camino Real due to its natural mineral springs. The largest of them eventually became the site of the Paso Robles Inn. I found out after the fact that it is rumored to be haunted. Perhaps that can be a story for another time!