I'm particularly fond of this day since watermelon is one of my favorite foods. I was super lucky over the weekend and my SO made me a appetizer he ate at a hotel in Miami. Don't be turned off by our addition of the olive, it was really tasty!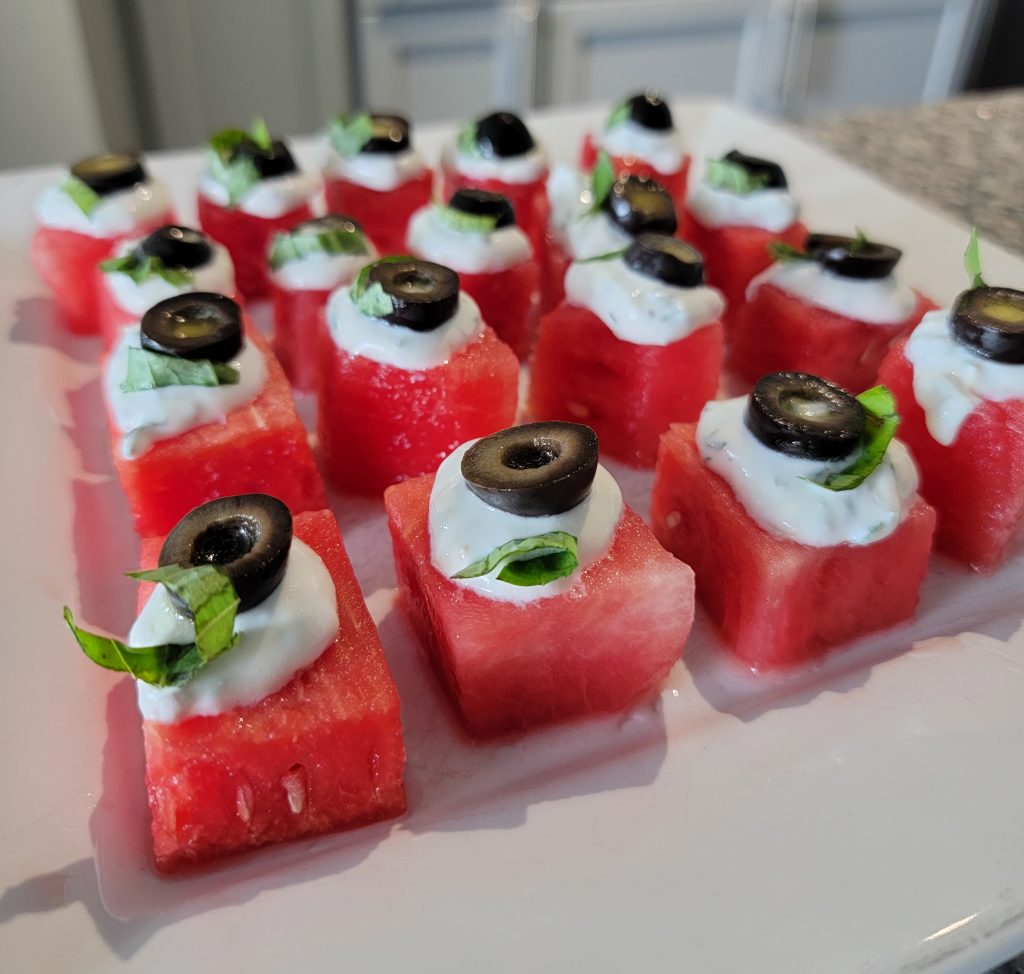 Tested size: 4-6 servings; makes 24 pieces
INGREDIENTS
4 ounces soft goat cheese (chevre)
2 tablespoons low-fat milk or whole milk
2 tablespoons finely chopped fresh basil leaves, plus more for garnish
1 tablespoon finely chopped fresh mint leaves
1/2 teaspoon finely grated zest and 1 1/2 teaspoons juice (from 1/2 lemon)
1/4 teaspoon freshly ground black pepper
1 tablespoon extra-virgin olive oil
1/2 teaspoon honey, or more as needed
1/4 teaspoon kosher salt
Half a mini/personal-size seedless watermelon
---
DIRECTIONS
Whisk or whip together the goat cheese and milk in a medium bowl until the mixture is creamy. Stir in the basil, mint, lemon zest and black pepper; cover and refrigerate until ready to serve.
Use a fork to whisk the oil, lemon juice, honey and 1/8 teaspoon of the salt in a liquid measuring cup. Taste, and add more honey, as needed.
Cut away the rind from the watermelon, then cut the melon into 1-inch squares about 1/2 inch thick, until you have 24 squares of melon. (Reserve the rind and any leftover melon for another use.)
Arrange the melon squares on a platter. Dollop about 1 teaspoon of the whipped cheese on top of each piece of melon. Drizzle the dressing on top, and around the platter, then sprinkle with the remaining 1/8 teaspoon of salt, garnish with additional chopped basil and serve right away.